News
Grants, Construction, Splicing, Trenching, Routers, European Broadband Awards
A Proud Moment
Just recently you will have seen the news on television and in newspapers about the Thai Cave Rescue (Tham Luang Cave Complex) of the 12 young boys and their football coach. One of the British divers who was the first to see the boys alive in the cave was John Volanthen who was instrumental in the safe rescue of all the group..
John Volanthen specialises in rescues through the Cave Rescue Organisation, South and Mid Wales Cave Rescue, and the British Cave Rescue Council. is being hailed as a hero, along with the rest of the diving team. John designs and constructs some of his own diving equipment, and has been called a "technical guru." He designed a mapping device that collects information while diving. He also designs and modifies his own rebreathers to increase their compactness and efficiency.
John is a CEO with HNS, ~ YES,! our very own Hub Network Services, Newport, who are providing the service for our 1GB FttP Internet. John was present at the contract signing back in January 2018.
I am sure you will all join me in congratulating John Volanthen and his team for a fantastic job well done and the safe recovery of all the boys and their coach. There are not enough words to express the feelings around the world that this rescue has created. We are so immensely proud to be associated with John and HNS
We should also remember the Thai Navy Seal diver Saman Kunan, who tragically lost his life in the rescue operation. Our thoughts and prayers are with his family and friends. RIP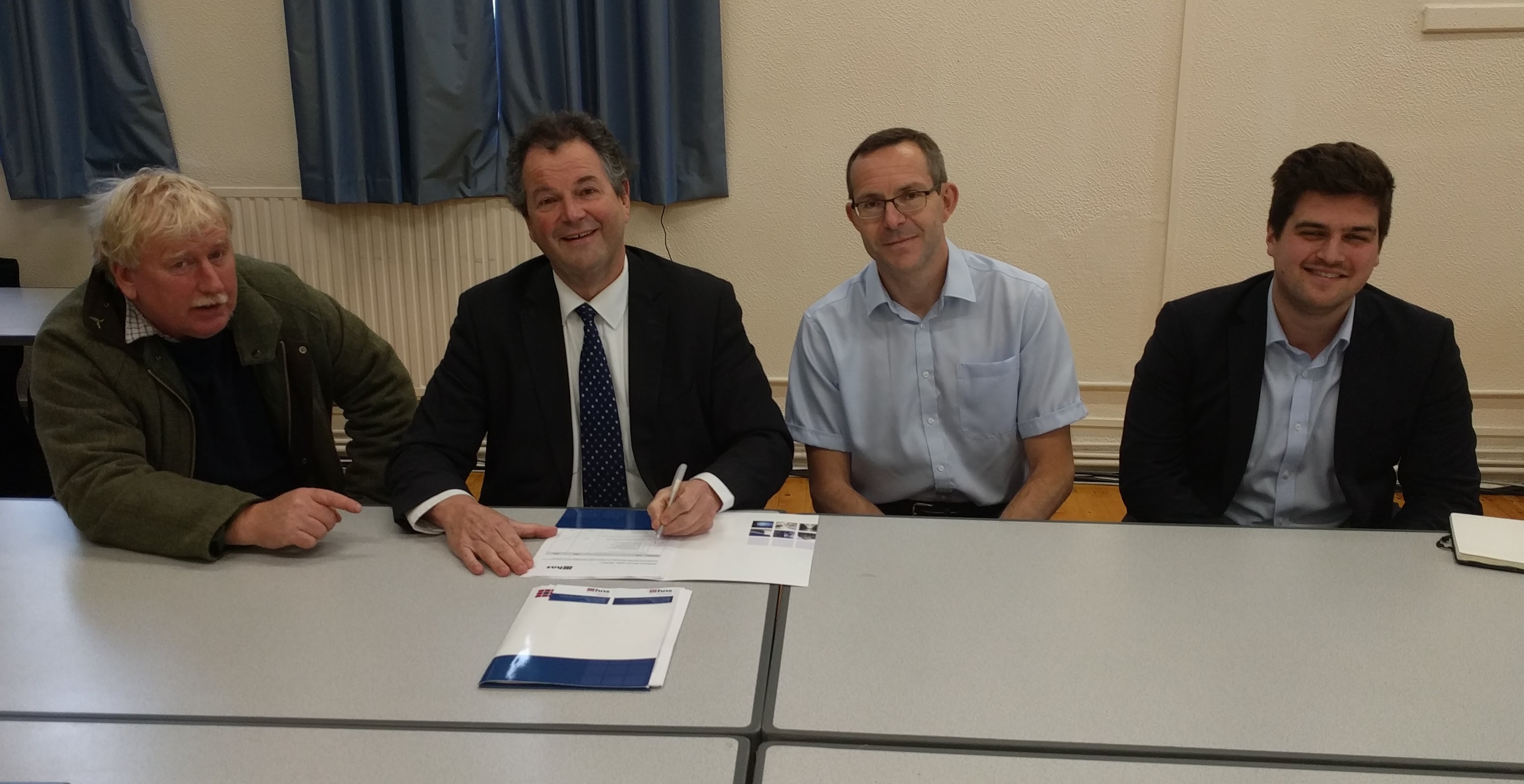 Onto our own news updates:~
Grant Updates
Now we are making live connections we are into the next phase of claiming the grant funding. This is a very important part of the process because this is the money that is funding your installation and connection to Michaelston-y-Fedw Internet CIC Gb fibre broadband.
Phillip is currently trialling a process to ensure the completion of the paperwork, a certified speed test, and signatures on the Elective Claim Form so that everything is in order to return to The Welsh Government Broadband Team and get the funding that is due paid into the Company bank account promptly.
IT IS IMPORTANT THAT WE GET ALL THIS IN PLACE EITHER SHORTLY AFTER YOUR CONNECTION OR AT THE TIME YOUR CONNECTION IS MADE LIVE.
The funding ensures that the remainder of the project can continue through to completion and relies on everyone's co-operation in this matter.
Number of Claim forms submitted to date = 20
We have been assured that Welsh Government will endeavour to pay grant claims promptly.
Construction and Progress
David & Chris Walford continue to trench using their digger across Penylan. A chamber was dug in Thursday in the presence of the UK supplier, who was very interested as he has seen different methods both in the UK and around the World.
Thomas Bros will be digging the channel across their entrance to allow the 16mm and 7mm ducts to enter the chamber in the corner of Fairwater Farm field. Due to the nature of the heavy plant using this track it is being concreted over thus ensuring that the road does not give way after being dug up. These ducts then go down Began Road towards Haygrove, across the road to Morgan Edwards' Farm and subsequently onto Cefn Mably Park and Tai Derwen.
Directional Drillers are back today and the week after next to continue with the under road and river drillings. This will then see the trenching continue up to Cefn Mably Park, Minorca Cottages and beyond.
After a short lull, it looks as though the project will now require volunteers again, back in the fields laying ducts. We will contact our core team of volunteers, but anyone who wishes to become involved in this even if it is only for a day or two, please contact lilian.richards@myfi.wales ~all support is very welcome. You are supporting the community and it is very much appreciated by all. There are still some areas where we are waiting for the crops to be harvested, this has been brought forward a week or two because of the sun and high temperatures of late which has hastened the ripening of the crops.
Fibre Blowing and Splicing
Now we have a much larger compressor, courtesy of Mark Graveston ~.Thank you Mark, this will make the blowing of the larger fibres much easier. We will begin to blow the fibres required to Clearwell Farm and Penylan on Sunday Morning.
Splices completed to date are:~
Routers with a spliced "pigtail" lead = 45

Spliced connections in the HUB = 26

Spliced fibres in Splice Bullets in various locations = 45
We have Patch leads on order that are due in any day now which will enable a further 19 live connections to be made.
This will bring the total live connections to 45 which is 25% of our total properties to connect.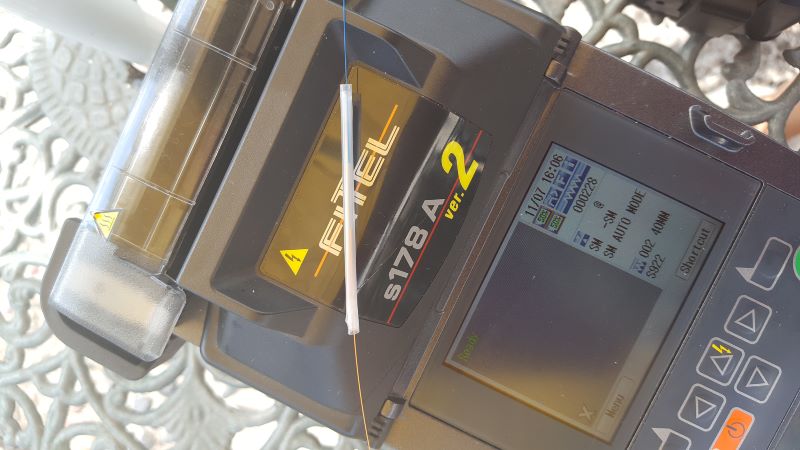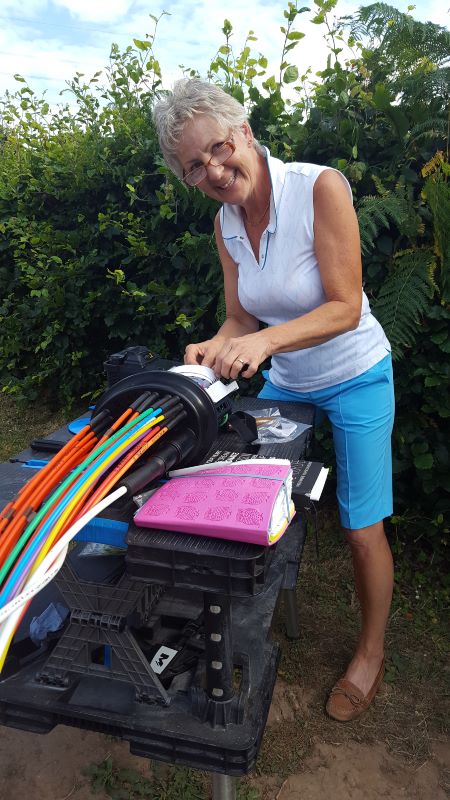 Router installations
To date, Jim Dunk and Glyn Williams have installed 59 Routers. Some of these installations are in advance of the duct and fibre being at the property, but it is great that they have achieved 33% of completed router installations and will make the connections quicker once fibre is to the property. Well done to you both, it will free up some of your time to support the duct laying too !
Please get your spades out and dig the trench in your gardens or arrange for someone to come along with the GeoRipper, so that ducts can be laid, fibres blown, routers installed etc etc and you can then be connected.
IT for the Hub
Due to the heat generated by the equipment in the Hub, the Air conditioning Unit that we currently have is insufficient to maintain the temperatures required. Research is being done to source an external unit that extracts the hot air and blows cold air in without having the heat generated by the unit itself inside the Hub. This will increase the cooling efficiency dramatically.
We are aware that the heat of this summer is extraordinarily higher this year than we are normally used to, but as we make more connections the heat generated will increase and therefore we should ensure that we cover all weather outcomes.
Cefn Mably Park
On 21st July we will start threading duct through the chambers and underground pipework to the Walled Garden.
Starting around 10.00 am Dave Schofield and a group of volunteers will begin this task ahead of the trenching up to the Main Gates.
All volunteers from the village and Cefn Mably Park are very welcome to come along and roll their sleeves up and assist. It is not heavy work but will require people in various positions along the route to verify the passage of the ducting.
Tea, Coffee and Cold water will be very welcome by the volunteers on what looks like being another hot weekend. Thank you to everybody in anticipation. !
Technical information
Just in case you missed the last newsletter, I am including this paragraph to remind you of the delivered speed and how your equipment and connection / Wi-Fi may affect the results.
Technical information to manage your expectations with regard to our 1Gbps internet.
Your speed will vary according to both your equipment and connection.
You will get maximum speed when connected directly with a Cat 5,6 or 7 lead and your laptop or PC has a 1Gb network card.
Mobile devices such as iPad's, Tab's and phones are more likely to get 300Mbs via Wi-Fi, maybe more at close range, but this of course depends on the network cards in those devices.
Speed is also dependent upon the thickness of walls in your property, the location of your router, whether you have fluorescent lighting etc. Many things can affect the speed of Wi-Fi.
This is not just applicable to our router, this applies to all Wi-Fi routers.
AOB
European Broadband Awards 2018
I have previously mentioned that we were recommended by Peter Williams from The Welsh Government to submit an application to the European Broadband Awards 2018, particularly as we are the first rural community built 1Gb fibre to the property broadband network in Wales.
I am in the process of preparing our submission and will forward some of the more technical questions to various people/experts in our village to forward the appropriate responses.
Part of the submission requires some video interviews that will ultimately go onto their website if we make it as finalists. Hefin Owen has very kindly agreed to professionally produce these for us. We will get a small group of stakeholders together and make the arrangements with Hefin so that he can edit them for the best results. Thank you Hefin, they will be a perfect addition to our submission.
The date of the next meeting is Thursday 26th July 2018 at 7.30 P.M.
PLEASE FEEL FREE TO COME ALONG AND HEAR ABOUT THE LATEST PROGRESS AND ASK QUESTIONS. EVERYONE IS WELCOME