News
Public Meeting 31st August 2017
It was decided to setup up a company to run the project. The company name will be Michaelston y Fedw Internet Limited and will be referred to colloquially as MyFi.
Five members of the community volunteered to be the Company Directors:
Gareth Davies
Russell Cope
Phillip Middleton
David Phillips
David Schofield
One of the Directors (to be decided) will act as Company Secretary.
A request for a grant has been made to the Community Council and this should be discussed at their meeting on the evening of Wednesday 6th September. As usual these are public meetings so if you want to hear what they are discussing then the meeting is in the village hall at 7.30 pm. We are hopeful that, if approved, this grant will be sufficient to set the company up and cover our website domain registration and hosting.
Sub-Groups
For the practical aspects of the project a number of sub-groups were formed with members of the community volunteering their services. The structure of these is shown in the diagram below.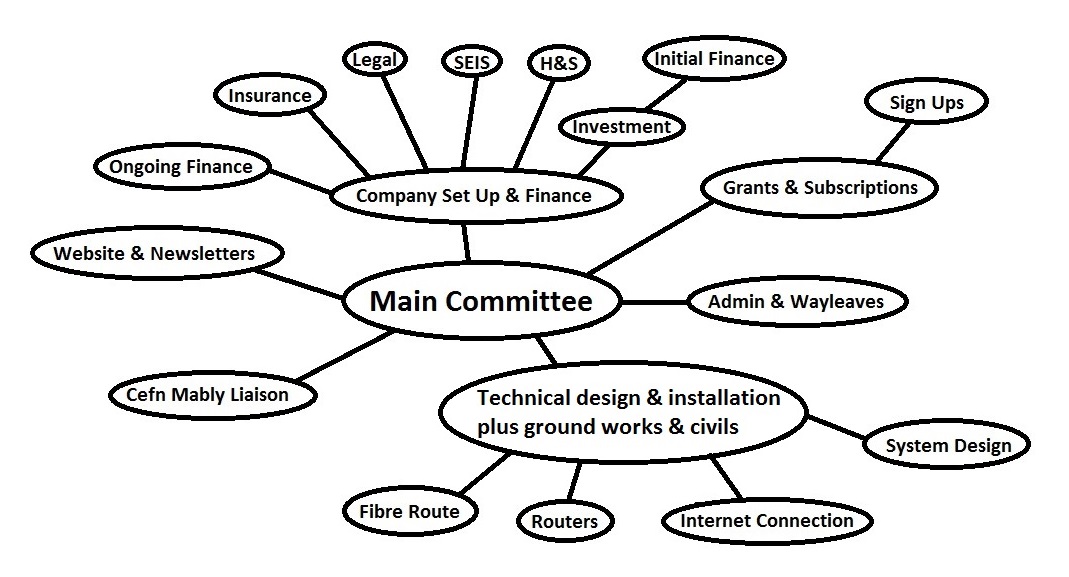 Website and Newsletter
The website is still in its infancy with much ongoing development which will include additional pages such as Directors information, news and progress.
A regular newsletter will be compiled by Carina Dunk to keep the whole community informed of the numerous facets of the project, and requirements for upcoming stages. We hope that you will all find the updates interesting and informative and offer any suggestions for improvements or additions. You can email any items for inclusion direct to Carina at cjdunk@btinternet.com.
Company Set Up and Finance
Phillip Middleton, Russell Cope & Oliver Cohen are the key players for this sub-group. Russell is in the process of setting up the company.
Grants and Subscriptions
We will be meeting with the Welsh Government on 11th September. The key point to resolve is regards the grant scheme under Access Broadband Cymru. This requires 3 proposals from Internet Service Providers detailing the solution and cost breakdown. Clearly this would be impractical for our scheme, so we will be seeking a solution to the application forms, given that a large proportion of the work is being carried out by the community. This is a somewhat unique situation and doesn't fit well with the form requirements. We will give an update following the meeting.
We also have a meeting arranged for Thursday 7th September with Mike Powell of Vale of Usk Rural Development Project. Mike may also be able to assist with preparation of grant forms and negotiations with Welsh Government.
Wayleaves and Admin
A wayleave is a right of way granted by a landowner, typically for purposes such as the laying of pipes or drains. In our case it will be for the laying of fibre ducts.
We must negotiate wayleaves for all work we want to carry out on private land. Our scheme is only viable if we receive free wayleaves from landowners. A free wayleave is unusual and is only possible due to the generosity of the landowners concerned.
We are fortunate to have Rob Williams as a member of this group. Rob has a lot of experience in this sector. Julie Taylor will also assist this group.
We already have verbal agreements to cover much of the land that will have the fibre cabling and ducting, although there are several landowners still to be approached.
A Wayleave Contract is being drawn up to ensure all Admin and paperwork is in order.
Technical Design & Installation plus Groundworks & Civils
It has been decided that these two sub-groups be combined as there will be times when they will be inter-related.
Duncan Law, Mark Grayson and Phil Barry are the key players in the design and technical installation sub group whilst David Phillips, Chris Walford & Rob Williams are the key players in Groundworks and Civils.
Once we have a preferred design option this can then be fully costed. We hope to be able to meet with an expert from B4RN as they have already completed a similar project in Lancashire.
Decisions will have to be made regarding equipment purchase or hire, whether work is carried out by the community or contracted out, obtaining a plan of services, H&S, plus Legal and Environmental issues. So lots of work to be done.
Cefn Mably Park Liaison
There are several residents of Cefn Mably Park who would like to be included in the project so a specific Cefn Mably Park Liaison group has been setup.
Grants & Subscriptions
Although we have 100+ properties and residents who have expressed a desire to connect to the community broadband we are still keen to provide this valuable opportunity to as many residents within our community as possible and therefore there is still some more door knocking to do.
Letters have been delivered to the remaining properties who have so far not signed up. The only way we can offer people a free connection is if we connect them while we build our network and receive the grant for doing so. Connecting afterwards will be expensive so it is important to reach as many of the properties as we can now..
The key point to get across to everyone is that it is our intention not to charge for the installation or for the first year of broadband service. Much of the cost of this will be covered by the Access Broadband Cymru grant of £800 per household. The grant is only paid to our community company when the actual properties that have connected have provided proof of the hyperfast connection to Welsh Government. This is by sending a record of a speed test to them.
Investment
Investors are sought to provide the capital with which components, materials, fibre, routers, etc. will be purchased as the grant is not payable to the company until connections are completed and live. People can invest between £500 to £20,000 maximum, more information on this in due course.
It is important to note that you do not have to invest to connect to the service. However, if you decide to invest HMRC have a very generous incentive available. To get this incentive the company needs to qualify for the 'Seed Enterprise Investment Scheme' which we are working towards.
Next Meeting
Our next main committee meeting will be held on Thursday 14th September at 7.30 at the Michaelston-y-Fedw village hall - all are welcome to attend.